The LEVINS and SWEET CAN PRODUCTIONS present ...
My Friend Hafiz 

It's a concert, it's a circus, it's an inspiration. My Friend Hafiz, the album created by The Levins stands alone as a piece of art, and when you add the circus stylings of Sweet Can Productions, you know you are in for a one-of-a-kind experience guaranteed to uplift your soul! 

Weaving the wisdom of beloved Persian poet Hafiz* into their "rich tapestry of unique harmonies", award-winning songwriters, The Levins, create an incredible backdrop for the breathtaking beauty of Sweet Can. Wonder at aerialists, be dazzled by acrobats and laugh with the clowns. It's a delight for all of your senses! Here for one weekend only! Come and set your spirit free!  
* -Lyrics adapted from Daniel Ladinsky's 1999 (c) Penguin publication, The Gift: Poems by Hafiz and used with his permission.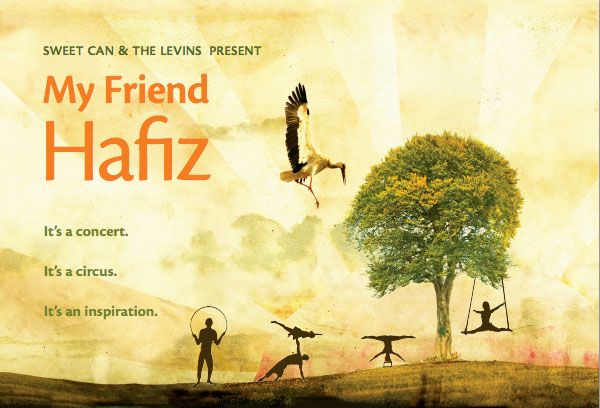 ALBUM REVIEW: Lee ZImmerman, No Depression
The Levins
My Friend Hafiz
(self-released)
The idea of adapting the poetry of a 14th century mystic may seem a strange way to advance contemporary folk music, but husband/wife duo Ira Scott Levin and Julia Bordenaro Levin have done exactly that, and the results exceed well beyond any expectation. Amply imbued with classicism and charm, and then underscored with an eclectic variety of acoustic instruments -- cello, mandocello, tabla, shakers and several additives of eastern origin -- the couple's erudite arrangements and gilded harmonies find this soothing set of songs a joy to behold and a must to enjoy. "The Sun Never Says," "A Root in Each Act and Creature," "Every Child" and "Your Mother and My Mother" glide along with a grace and delicacy that is seamless and sublime, a sound for Sunday mornings or dimly lit evenings when carefree contemplation is ideal. The meditative nature of the material is meant to impart gentle philosophical lessons, each a much needed remedy for a hurried and harried world. They also serve to remind us of that old adage that says music and poetry can indeed be a soothing balm for troubled times. Credit the Levins for showering these ancient proverbs and admonishments with such enticing appeal.
---
WATCH: 
SHORT PROMOTIONAL VIDEO
(1:15 min)
LONGER PROMOTIONAL VIDEO (3:03)

 
---
LISTEN: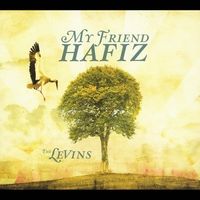 Selections from our album
"My Friend Hafiz" can be
 heard by clicking here:
 SOUNDCLOUD
 (https://soundcloud.com/myfriendhafiz) 
---
...from the album "MY FRIEND HAFIZ"
"Carry your heart through this world like a life-giving sun"
"Write them all down, all your worries and your fears and from a thousand years, i will lean into today. And the flame inside my heart, will burn them all away."
"I am one of many. I'm not one alone."
'The sun never says to the earth, "you owe me'. Look what you can do with a love like that. It lights up the whole sky"
"One act of kindness can overcome fate."
"Forgive this dream and become real"
"When the violin can begin to forgive the past, it starts singing. When the violin can stop worrying what the future will bring, it starts laughing"
"All I want to do is empty my emerald-filled pockets on this tear-stained world for you!"
"Love is royalty moving ceaselessly."
"The chorus in the heart needs to sing."
---
PRESS / Quotes for the "My Friend Hafiz" CD
New CD review in internationally renowned magazine, Science of Mind, August 2015
Top 10 CD, 2013, DJ John Platt, WFUV
Top 10 Song, Dropping Keys, 2013, DJ John Platt, WFUV
Top 20 CD, March 2013, FOLK DJ Charts
"The lyrical pearls of wisdom float along on the luscious harmonies The Levins offer from their beautiful hearts." L. Ferraro, SCIENCE of MIND

"The Levins folk music speaks the universal language of hope and compassion." 
   Serge Kozlovsky of Radio Magico
"The meditative nature of the material is meant to impart gentle philosophical lessons, each a much needed remedy for a hurried and harried world. They also serve to remind us of that old adage that says music and poetry can indeed be a soothing balm for troubled times. Credit the Levins for showering these ancient proverbs and admonishments with such enticing appeal."  - No Depression, Lee Zimmerman
"The messages that The Levins provide in these arrangements (and by virtue of being seemingly rooted in Hebrew faith, yet drawing inspiration from an Islamic poet) is just huge for me, being Unitarian Universalist in my philosophy. In this music is a spirit of togetherness and humanity that is all too rare, and is so, so appreciated." Review/CDBaby

"If you're looking for music to soothe your spirit and lift your soul, this album would be a good choice!" John Lindermuth, Rambles.net
---
---

HISTORY:
In September of 2014, The Levins joined Sweet Productions in offering a weekend of performances that delighted audiences of all ages. Music was presented by The Levins World Folk Ensemble live on stage while the Sweet Can Circus ensemble performed intimate, heartfelt vignettes of many mediums.  

The material is accessible to all ages and the interaction between audience and performers was paramount. The music is rousing, freeing and joyful. The lyrics are inclusive and inspiring. The aerialists, dancers, clowns and artists of Sweet Can Ensemble presented magical performances that allowed the audience to wonder and connect with universal truths and each other. 

The combination was not only wildly successful, but  transformational for not only the audiences, but for the cast and musicians. We welcome your inquiries and interest as we are start to reaching out to organizations for developments, grants and consideration. 

With gratitude,  Ira and Julia / The Levins
 
---
---
---